Corporate Matters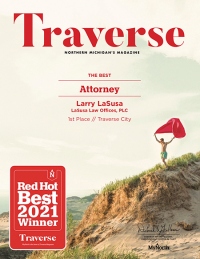 From formation through operation and disposition, or merger, acquisition or sale, we will help guide your business and you reach your goals. We are experienced in corporate governance and governmental regulation. We have represented and counseled clients ranging from individual entrepreneurs to billion dollar financial institutions, privately held and publicly traded companies, for profit and non-profit organizations.
Northwest Michigan Business News
April 17, 2017
PROTECTING YOUR TRADE SECRETS, Part 1
No sensible businessperson would leave money lying around the office or keys to the company car in the ignition. But sometimes the most important assets of a company, its "trade secrets," are left completely unprotected.
Northwest Michigan Business News
April 16, 2017
PROTECTING YOUR TRADE SECRETS, Part 2
Imagine one of your employees leaves for the competition or starts their own competing business with your market strategies or ideas for new products.
Young Lawyers Section
April 15, 2017
Forming Charitable Organizations in Illinois
You receive a call from a client who asks to meet with you regarding a new business venture. He tells you that the business venture he contemplates is, in fact, a charitable organization.
Corporate Legal Times
April 14, 2017
Insurer Has Controversial Strategy to Reduce Rx Costs
LITIGATION is a poor way to settle disputes, especially when it takes place among parties who have to continue doing business with each other. Executives are distracted, profits decline, the economy suffers, the lawyers get rich and so on.
Alternative Billing Arrangements for Legal Fees
May 6, 2015
Save on Legal Fees through Alternative Billing Arrangements
The Illinois Bar Journal recently reported that alternative billing arrangements for legal fees (other than by the hour) are coming to Main Street America.