Real Estate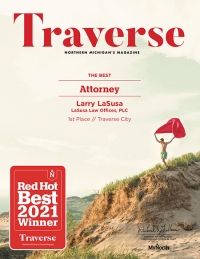 Simply said: We get deals done. Our attorneys have deep and wide experience in acquisition, zoning, development, finance, leasing, and disposition. We solve all forms of complex construction, contractual, environmental, and tax problems. We regularly work on single-use, multi-use, multimillion-dollar and complex mixed-used projects.
Alternative Billing Arrangements for Legal Fees
May 6, 2015
Save on Legal Fees through Alternative Billing Arrangements
The Illinois Bar Journal recently reported that alternative billing arrangements for legal fees (other than by the hour) are coming to Main Street America.
Record Eagle
April 21, 2014
Businesses sue to block new septage plant
TRAVERSE CITY - Local business owners filed suit to block Grand Traverse County from building a septage treatment plant in their industrial park.
The Press-Enterprise
April 21, 2014
Moreno sues mall's developers, says police deal broken
MORENO VALLEY - The City of Moreno Valley has sued the developers of the Moreno Valley Mall at TownGate, saying they reneged on an agreement to pay for police services at the shopping and business center.
The Town Meeting
April 21, 2014
Residents challenge village's denial of variance
ELK RAPIDS, MICHIGAN - A decision of the Elk Rapids Zoning Board of Appeals regarding a 5-foot sideyard setback variance has landed the village in 13th Circuit Court.
Journal Inquirer
April 15, 2014
Judge rejects suit to revoke mall's $9.5 million tax break
MANCHESTER - The town and the developer of Manchester's Buckland Hills mall won a major legal victory this week when a Superior Court judge dismissed a local woman's lawsuit that sought to repeal the shopping center's $9.5 million tax break.