Complex Commercial Litigation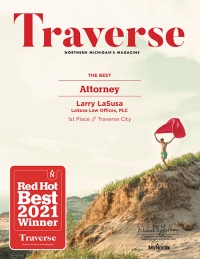 We are skilled trial lawyers with unsurpassed experience in creative negotiation and trial litigation. We are at home in any courtroom setting around the country or abroad. Jury trials, bench trials, arbitrations, administrative hearings, and appellate proceedings – are our stock in trade.
Journal Inquirer
April 20, 2017
Judge rejects suit to revoke mall's $9.5 million tax break
MANCHESTER - The town and the developer of Manchester's Buckland Hills mall won a major legal victory this week when a Superior Court judge dismissed a local woman's lawsuit that sought to repeal the shopping center's $9.5 million tax break.
What Do You Do When the Deponent Takes the Fifth?
April 16, 2017
You are deposing the president of an investment firm. Your client is suing the firm on a constructive trust and accounting cause of action. Your first two background questions, concerning the deponent's name and age, he politely answers. You next ask him who he works for.
Traverse City Business News
April 15, 2017
Maximizing Returns and Minimizing Costs in Collection Lawsuits
Thanks to current economic conditions, huge numbers of collection lawsuits are being filed across the country every day. However, in many cases – even when the lawsuits produce a favorable judgment – they produce little or no recovery for the judgment creditor.
Pre-Trial Motions Under Sections 2-615 and 2-619
April 14, 2017
Perhaps no other area in civil procedure creates more difficulty and confusion than Sections 2-615 and 2-619 of the Illinois Code of Civil Procedure. These two sections provide similar yet distinct avenues for dispositive pre-trial motions. Each section functions to attack pleadings in civil cases. This article will outline the practice and procedure under each section and illustrate methods for using each to its fullest potential.
Traverse City Business News
April 13, 2017
Applying Martial Arts to Business Problems
We have all come across them: times when cooler heads do not prevail and things go from unpleasant to downright nasty. If it's a business situation, how do you extricate yourself from the situation with minimum collateral damage?