Complex Commercial Litigation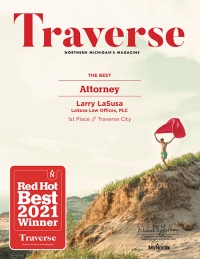 We are skilled trial lawyers with unsurpassed experience in creative negotiation and trial litigation. We are at home in any courtroom setting around the country or abroad. Jury trials, bench trials, arbitrations, administrative hearings, and appellate proceedings – are our stock in trade.
Berlett v. Cargill 780 F.Supp. 560
April 16, 2014
United States District Court, N.D. Illinois, Eastern Division. - Betty Jo BERLETT, Plaintiff v. CARGILL, INC., Defendants. No. 89 C 3069. Dec. 9, 1991.
Personal Jurisdiction
April 15, 2014
PROBLEM: Internet conferencing and email exchanges are extending the long arm of the law.
Record Eagle
April 15, 2014
Attorney: McManus case should be dismissed
TRAVERSE CITY -- Former Garfield Township Treasurer Judy McManus is scheduled for trial today for allegedly altering township financial records, in part for attempting to hide payments to an agency that collected delinquent taxes
Northwest Herald
April 13, 2014
Investors get few answers - Health club owner skirts questions
ROCKFORD - Confronted by angry creditors and two state assistant attorneys general, Ronald Bosse refused to say what happened to almost $200,000 invested in the defunct McHenry County Health Club.
American Pfauter v Freeman 796 F.Supp. 347
March 31, 2014
United States District Court, N.D. Illinois, Eastern Division. AMERICAN PFAUTER, LTD., Plaintiff, v. FREEMAN DECORATING COMPANY/THE FREEMAN COMPANY, Chicago I & D Service, Inc., South End Cartage Company, ...